Boys capture Glendale's 23rd District Title with a 3-1 Victory over Lebanon.
Match stats:  Captain Karter with the Game Winner + 1A, Captain Payton with a G/1A, Andrei opens his Varsity account with a G & Captain Grant with 2A's.
Media: Laclede Record   O-Zone Pics   Soccer STL
Saturday:  Training in the stadium at 11:00am.
Sunday:  Family Tradition.  We will attend the 9:00am service at Hill City Church which meets at the Gilloz.  After the service we will have breakfast at Civil Kitchen.
Tuesday's State Sectional game will kick off at 6:00pm v Helias in Jefferson City.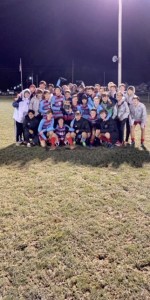 { 0 comments }